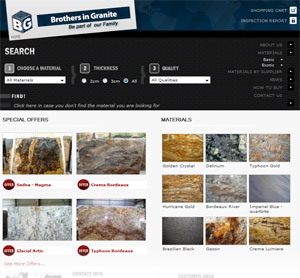 http://www.brothersingranite.com
Founded in September 2007 by Daniel and Fernando Salume, two brothers who have worked as sales executives for many years in the granite market, Brothers in Granite was created to take the Brazilian granite business to a higher level and make your way to buy granite an easier task! Our concept is to provide the perfect connection between exporters and importers of natural stones, ensuring the quality of the products and offering the largest variety of granite and marble from Brazil.
After those years working in the export sales department, we have noticed the granite market necessity of a service that could quickly and effectively attend the customersí needs. For that reason we developed brothersingranite.com so we can exclusively attend our costumers by connecting them to all granite suppliers in the entire Brazilian market. That way, our costumers can find with us any kind of material available in Brazil.
Through brothersingranite.com you will access ALL materials our Brazilian partners have in stock in real time. Using our website you can select the bundles you want in your container in a fast and discreet way. We have developed for you an online inventory of the available products in our suppliers stocks so you will have the chance of purchasing exactly what you are looking for. That means no more sales executives trying to sell what you donít want and no more filling containers with colors you never need! Now you can make your orders in a simple and uncomplicated way!
Besides all that, brothersingranite.com also offers you a free inspection of your order. After you select your colors, one of our professional inspectors will be sent to that specific supplier to do the bundles inspection and, if necessary or requested, slab by slab. After it is properly done, you will receive a password so you can access a detailed inspection report at brothersingranite.com. Only after you approve it, we will ship your container.
The best way to find stones here in Brazil at low prices, is to visit our website (Product Detail) inside the "Special Offer" section.
We update this page every single day and all materials you see there are of actual bundles available in stock from many different suppliers. There you'll be able to see materials such as the Hurricane Gold, which is usually sold by the Brazilian Suppliers for around US$ 15.00sft, but we have acccess direct to the quarry owner and you can find bundles in our website of this material
starting from US$ 4.50sft
... Just like this Hurricane Gold, we have many other great deals too. So when you have a chance, please take a few minutes on that page below, and you can certainly find great deals for your customers: http://www.brothersingranite.com/products-detail.php?cod_produto=5987
This page is not updated in real time so visit Brazilian Granite Supplier to see current offerings. Tell them GraniteMakeover Sent you.

Thickness [ 2cm ]
Supplier
Material
Thickness
Block
Bundle
Slabs
Quality(+)
BROTHERS
Giallo
Ornamental
2cm
7458
41-51
Premium
BROTHERS
Giallo
Ornamental
2cm
7458
11-20
Premium
BROTHERS
Giallo
Ornamental
2cm
7458
63-74
Premium
BROTHERS
Giallo
Ornamental
2cm
7458
21-30
Premium
BROTHERS
Giallo
Ornamental
2cm
7458
52-62
Premium
BROTHERS
Giallo
Ornamental
2cm
7458
1-10
Premium
Thickness [ 3cm ]
Supplier
Material
Thickness
Block
Bundle
Slabs
Quality(+)
BROTHERS
Bianco
Antico
3cm
4041
4424
Standard
BROTHERS
Bianco
Antico
3cm
4051
5093
Standard
BROTHERS
Bianco
Antico
3cm
4525
01
Standard
BROTHERS
Bianco
Antico
3cm
4525
07
Standard
BROTHERS
Bianco
Antico
3cm
4559
07
Premium
BROTHERS
Bianco
Antico
3cm
4559
46
Premium
BROTHERS
Bianco
Antico
3cm
4559
01
Premium
BROTHERS
Bianco
Antico
3cm
4559
21
Premium
BROTHERS
Bianco
Antico
3cm
4559
34
Premium
BROTHERS
Bianco
Antico
3cm
4559
14
Premium
BROTHERS
Bianco
Antico
3cm
4559
41
Premium
BROTHERS
Bianco
Romano
3cm
3904
34
Premium
BROTHERS
Bianco
Romano
3cm
3904
02
Premium
BROTHERS
Bianco
Romano
3cm
3904
03
Premium
BROTHERS
Black
Star
3cm
22252
Premium
BROTHERS
Blue
Bay
3cm
05
07
to
12
Premium
BROTHERS
Blue
Bay
3cm
05
01
to
06
Premium
BROTHERS
Bordeaux
3cm
29757
Standard
BROTHERS
Bordeaux
3cm
29758
Standard
BROTHERS
Bordeaux
3cm
29759
Commercial
BROTHERS
Bordeaux
3cm
31674
Standard
BROTHERS
Bordeaux
River
3cm
4041
Premium
BROTHERS
Bordeaux
River
3cm
4043
Premium
BROTHERS
Bordeaux
River
3cm
4045
Premium
BROTHERS
Bordeaux
River
3cm
4046
Premium
BROTHERS
Bordeaux
River
3cm
4047
Premium
BROTHERS
Bordeaux
River
3cm
4830
7940
Premium
BROTHERS
Bordeaux
River
3cm
4830
7941
Premium
BROTHERS
Bordeaux
River
3cm
4830
7942
Premium
BROTHERS
Bordeaux
River
3cm
4830
7943
Premium
BROTHERS
Bordeaux
River
3cm
4830
7944
Premium
BROTHERS
Brazilian
Black
3cm
01
01
Premium
BROTHERS
Brazilian
Black
3cm
01
02
Premium
BROTHERS
Brazilian
Black
3cm
01
03
Premium
BROTHERS
Brazilian
Black
3cm
01
04
Premium
BROTHERS
Brazilian
Black
3cm
01
05
Premium
BROTHERS
Brazilian
Black
3cm
01
06
Premium
BROTHERS
Brazilian
Black
3cm
01
07
Premium
BROTHERS
Capella
3cm
1266
07
to
12
Premium
BROTHERS
Capella
3cm
1266
01
to
06
Premium
BROTHERS
Capuccino
Gold
3cm
140
01
Standard
BROTHERS
Capuccino
Gold
3cm
140
02
Standard
BROTHERS
Capuccino
Gold
3cm
143
01
Standard
BROTHERS
Capuccino
Gold
3cm
350
03
Standard
BROTHERS
Capuccino
Gold
3cm
350
04
Standard
BROTHERS
Caramel
Ornamental
3cm
733
15
to
25
Premium
BROTHERS
Colonial
Treasure
3cm
29081
Standard
BROTHERS
Colonial
Treasure
3cm
29082
Standard
BROTHERS
Copper
Canyon
3cm
21235
Standard
BROTHERS
Copper
Canyon
3cm
3051
1-6
Premium
BROTHERS
Copper
Canyon
3cm
3051
7-11
Premium
BROTHERS
Copper
Canyon
3cm
3051
17-21
Premium
BROTHERS
Copper
Canyon
3cm
3051
12-16
Premium
BROTHERS
Crema
Bordeaux
3cm
01
1-7
Premium
BROTHERS
Crema
Bordeaux
3cm
01
8-15
Premium
BROTHERS
Crema
Bordeaux
3cm
02
15-20
Premium
BROTHERS
Crema
Bordeaux
3cm
02
08-14
Premium
BROTHERS
Crema
Bordeaux
3cm
02
01-07
Premium
BROTHERS
Crema
Bordeaux
3cm
02
21-26
Premium
BROTHERS
Crema
Bordeaux
3cm
10797
1-7
Premium
BROTHERS
Crema
Bordeaux
3cm
10797
13
Premium
BROTHERS
Crema
Bordeaux
3cm
10797
22
Premium
BROTHERS
Crema
Bordeaux
3cm
10797
8-13
Premium
BROTHERS
Crema
Lumiere
3cm
1047
Premium
BROTHERS
Crema
Lumiere
3cm
1048
Premium
BROTHERS
Crema
Lumiere
3cm
1049
Premium
BROTHERS
Crema
Lumiere
3cm
1051
Premium
BROTHERS
Delicatus
White
3cm
22220
Standard
BROTHERS
Delicatus
White
3cm
22518
Standard
BROTHERS
Delicatus
White
3cm
22519
Standard
BROTHERS
Delicatus
White
3cm
22540
Standard
BROTHERS
Delicatus
White
3cm
22541
Standard
BROTHERS
Delicatus
White
3cm
001
002
Premium
BROTHERS
Delicatus
White
3cm
001
004
Premium
BROTHERS
Delicatus
White
3cm
001
005
Premium
BROTHERS
Delicatus
White
3cm
2009
42-46
Standard
BROTHERS
Delicatus
White
3cm
2009
25-30
Standard
BROTHERS
Delicatus
White
3cm
2009
19-24
Standard
BROTHERS
Delicatus
White
3cm
2009
31-36
Standard
BROTHERS
Delicatus
White
3cm
2009
37-41
Standard
BROTHERS
Delicatus
White
3cm
2009
47-51
Standard
BROTHERS
Deligth
3cm
29085
Standard
BROTHERS
Deligth
3cm
29086
Standard
BROTHERS
Delirium
3cm
29083
Standard
BROTHERS
Delirium
3cm
29084
Standard
BROTHERS
Desert
Gold
3cm
1061
Premium
BROTHERS
Desert
Gold
3cm
1062
Premium
BROTHERS
Desert
Gold
3cm
1063
Premium
BROTHERS
Desert
Gold
3cm
1347
Premium
BROTHERS
Desert
Gold
3cm
1348
Premium
BROTHERS
Desert
Gold
3cm
1351
Premium
BROTHERS
Four
Seasons
3cm
22524
Premium
BROTHERS
Four
Seasons
3cm
22526
Premium
BROTHERS
Four
Seasons
3cm
22530
Premium
BROTHERS
Four
Seasons
3cm
22531
Premium
BROTHERS
Gazon
3cm
010807
7-11
Premium
BROTHERS
Gazon
3cm
010807
1-6
Premium
BROTHERS
Giallo
Ornamental
3cm
6217
01
Standard
BROTHERS
Giallo
Ornamental
3cm
764
1-7
Standard
BROTHERS
Giallo
Ornamental
3cm
7944
41-42
Standard
BROTHERS
Giallo
Ornamental
3cm
7944
50-54
Standard
BROTHERS
Giallo
Ornamental
3cm
7944
15-21
Standard
BROTHERS
Giallo
Vicenza
3cm
764
1541
Standard
BROTHERS
Giallo
Vicenza
3cm
764
1545
Standard
BROTHERS
Giallo
Vicenza
3cm
764
1548
Standard
BROTHERS
Giallo
Vicenza
3cm
764
1549
Standard
BROTHERS
Giallo
Vicenza
3cm
764
1550
Standard
BROTHERS
Giallo
Vicenza
3cm
764
1551
Standard
BROTHERS
Giallo
Vicenza
3cm
764
1552
Standard
BROTHERS
Giallo
Vicenza
3cm
764
1553
Standard
BROTHERS
Glacial
Artic
3cm
348
Premium
BROTHERS
Gold
&
Ivory
3cm
20
15-20
Standard
BROTHERS
Gold
&
Ivory
3cm
20
01-06
Standard
BROTHERS
Gold
&
Ivory
3cm
20
29-34
Standard
BROTHERS
Gold
&
Ivory
3cm
20
22-27
Standard
BROTHERS
Gold
&
Ivory
3cm
20
09-14
Standard
BROTHERS
Gold
&
Ivory
3cm
44
11-15
Commercial
BROTHERS
Gold
&
Ivory
3cm
44
06-10
Commercial
BROTHERS
Gold
&
Ivory
3cm
86
01-08
Commercial
BROTHERS
Gold
Marinace
3cm
29076
Standard
BROTHERS
Gold
Marinace
3cm
29077
Standard
BROTHERS
Gold
Marinace
3cm
544
7-12
Premium
BROTHERS
Gold
Marinace
3cm
544
1-6
Premium
BROTHERS
Golden
Bordeaux
3cm
011
13-18
Premium
BROTHERS
Golden
Bordeaux
3cm
014
13-19
Premium
BROTHERS
Golden
Bordeaux
3cm
014
01-06
Premium
BROTHERS
Golden
Bordeaux
3cm
014
07-12
Premium
BROTHERS
Golden
Bordeaux
3cm
189
08-14
Premium
BROTHERS
Golden
Bordeaux
3cm
189
22-27
Premium
BROTHERS
Golden
Bordeaux
3cm
189
01-07
Premium
BROTHERS
Golden
Bordeaux
3cm
189
15-21
Premium
BROTHERS
Golden
Bordeaux
3cm
189
28-33
Premium
BROTHERS
Golden
Bordeaux
3cm
197
13-18
Premium
BROTHERS
Golden
Bordeaux
3cm
197
07-12
Premium
BROTHERS
Golden
Bordeaux
3cm
197
19-25
Premium
BROTHERS
Golden
Crystal
3cm
15
07-12
Standard
BROTHERS
Golden
Crystal
3cm
15
01-06
Standard
BROTHERS
Golden
Crystal
3cm
3322
16-19,09,10
Premium
BROTHERS
Golden
Crystal
3cm
3322
02-07
Standard
BROTHERS
Golden
Crystal
3cm
3322
37-42
Standard
BROTHERS
Golden
Crystal
3cm
42
07-11
Premium
BROTHERS
Golden
Crystal
3cm
42
12-16
Standard
BROTHERS
Golden
Crystal
3cm
74
07-12
Standard
BROTHERS
Golden
Crystal
3cm
74
01-06
Standard
BROTHERS
Golden
Crystal
3cm
89
16-21
Standard
BROTHERS
Golden
Crystal
3cm
89
22-28
Standard
BROTHERS
Golden
Silver
3cm
3760
21
Premium
BROTHERS
Golden
Silver
3cm
3760
17
Premium
BROTHERS
Golden
Silver
3cm
4183
20
Premium
BROTHERS
Golden
Silver
3cm
4183
48
Premium
BROTHERS
Golden
Silver
3cm
4183
27
Premium
BROTHERS
Golden
Silver
3cm
4314
21
Premium
BROTHERS
Golden
Star
3cm
287
01
Standard
BROTHERS
Golden
Star
3cm
287
02
Standard
BROTHERS
Golden
Star
3cm
287
03
Standard
BROTHERS
Golden Thunder
3cm
17
19-24
Standard
BROTHERS
Golden Thunder
3cm
17
1-6
Standard
BROTHERS
Golden Thunder
3cm
17
13-18
Standard
BROTHERS
Golden Thunder
3cm
17
7-12
Standard
BROTHERS
Golden Thunder
3cm
2013
22-28
Premium
BROTHERS
Golden Thunder
3cm
2013
29-35
Premium
BROTHERS
Golden Thunder
3cm
2255
01
Premium
BROTHERS
Golden Thunder
3cm
2256
Premium
BROTHERS
Golden Thunder
3cm
2257
2
Premium
BROTHERS
Golden Thunder
3cm
2361
1
Premium
BROTHERS
Golden Thunder
3cm
2397
28
Premium
BROTHERS
Golden Thunder
3cm
2397
22
Premium
BROTHERS
Golden Thunder
3cm
2832
28
Premium
BROTHERS
Golden Thunder
3cm
2854
01
Premium
BROTHERS
Golden Thunder
3cm
2854
7
Premium
BROTHERS
Harmonium
3cm
F2-05
28-34
Premium
BROTHERS
Harmonium
3cm
F2-05
35-40
Premium
BROTHERS
Hurricane Gold
3cm
148
1,2,3,4,6
Standard
BROTHERS
Hurricane Gold
3cm
156
13-18
Standard
BROTHERS
Hurricane Gold
3cm
156
07-12
Standard
BROTHERS
Hurricane Gold
3cm
168
01-07
Premium
BROTHERS
Hurricane Gold
3cm
168
08-15
Premium
BROTHERS
Hurricane Gold
3cm
200
31-36
Standard
BROTHERS
Hurricane Gold
3cm
202
19-24
Standard
BROTHERS
Hurricane Gold
3cm
204
8-14
Standard
BROTHERS
Hurricane Gold
3cm
204
1-7
Standard
BROTHERS
Hurricane Gold
3cm
204
15-20
Premium
BROTHERS
Hurricane Gold
3cm
220
07-14
Premium
BROTHERS
Hurricane Gold
3cm
220
15-21
Premium
BROTHERS
Hurricane Gold
3cm
235
07-12
Premium
BROTHERS
Hurricane Gold
3cm
298
01-06
Premium
BROTHERS
Hurricane Gold
3cm
308
07-12
Premium
BROTHERS
Hurricane Gold
3cm
308
01-06
Premium
BROTHERS
Hurricane Gold
3cm
319
01-05
Premium
BROTHERS
Hurricane Gold
3cm
97
32-37
Standard
BROTHERS
Imperial Blue-quartzite
3cm
22401
Premium
BROTHERS
Imperial Blue-quartzite
3cm
22402
Premium
BROTHERS
Imperial Blue-quartzite
3cm
22403
Premium
BROTHERS
Intense Coffee
3cm
29089
Standard
BROTHERS
Juparana
Expresso
3cm
4649
8-14
Premium
BROTHERS
Juparana
Expresso
3cm
4649
22-27
Premium
BROTHERS
Juparana Fantasy
3cm
01
01
Premium
BROTHERS
Juparana Fantasy
3cm
01
02
Premium
BROTHERS
Juparana Fantasy
3cm
01
03
Premium
BROTHERS
Juparana Fantasy
3cm
01
04
Premium
BROTHERS
Juparana Florence Bdx
3cm
3917
15
Premium
BROTHERS
Juparana Florence Bdx
3cm
3960
01
Premium
BROTHERS
Juparana Florence Bdx
3cm
3960
06
Premium
BROTHERS
Juparana Florence Bdx
3cm
4211
38
Premium
BROTHERS
Juparana Gem
3cm
09
22-25
Premium
BROTHERS
Juparana Tabacco
3cm
4310
06
Premium
BROTHERS
Juparana Tabacco
3cm
4310
12
Premium
BROTHERS
Juparana Tabacco
3cm
4310
03
Premium
BROTHERS
Jurassic
3cm
1558
Standard
BROTHERS
Jurassic
3cm
1562
Standard
BROTHERS
Jurassic
3cm
1563
Standard
BROTHERS
Jurassic
3cm
1907
Standard
BROTHERS
Jurassic
3cm
1908
Standard
BROTHERS
Jurassic
3cm
1909
Standard
BROTHERS
Jurassic
3cm
1910
Standard
BROTHERS
Jurassic
3cm
1911
Standard
BROTHERS
Jurassic
3cm
19
2-9
Standard
BROTHERS
Jurassic
3cm
24
5-11
Standard
BROTHERS
Jurassic
3cm
24
1-4
Standard
BROTHERS
Jurassic
3cm
29
8-13
Standard
BROTHERS
Jurassic
3cm
29
2-7
Standard
BROTHERS
Jurassic
3cm
32
25-30
Standard
BROTHERS
Jurassic
3cm
63
16-22
Standard
BROTHERS
Kilimanjaro
3cm
22579
Premium
BROTHERS
Kilimanjaro
3cm
22587
Premium
BROTHERS
Kilimanjaro
3cm
25
21846
8-13
Premium
BROTHERS
Lapidus
3cm
6712
27
to
32
Premium
BROTHERS
Lapidus
3cm
6712
15
to
20
Premium
BROTHERS
Lapidus
Blue
3cm
02B
01
to
06
Standard
BROTHERS
Lapidus Blue
3cm
02B
18-27
Standard
BROTHERS
Madagastar
3cm
22314
Standard
BROTHERS
Madagastar
3cm
22316
Standard
BROTHERS
Madagastar
3cm
22317
Standard
BROTHERS
Madagastar
3cm
22318
Standard
BROTHERS
Mascarello
3cm
02
7-12
Premium
BROTHERS
Mascarello
3cm
1967
Standard
BROTHERS
Mascarello
3cm
254
Premium
BROTHERS
Minotaurus
3cm
22415
Standard
BROTHERS
Minotaurus
3cm
22416
Standard
BROTHERS
Minotaurus
3cm
22417
Standard
BROTHERS
Minotaurus
3cm
22421
Standard
BROTHERS
Minotaurus
3cm
23068
Standard
BROTHERS
Minotaurus
3cm
23069
Standard
BROTHERS
Minotaurus
3cm
23070
Standard
BROTHERS
Minotaurus
3cm
26205
Premium
BROTHERS
Minotaurus
3cm
31145
Standard
BROTHERS
Minotaurus
3cm
31146
Standard
BROTHERS
Minotaurus
3cm
31147
Standard
BROTHERS
Minotaurus
3cm
31148
Standard
BROTHERS
Minotaurus
3cm
31149
Standard
BROTHERS
Minotaurus
3cm
32315
Premium
BROTHERS
Minsk
Bronze
3cm
43
19-23
Premium
BROTHERS
Minsk Green Gold
3cm
167
11-17
Standard
BROTHERS
Minsk Green Gold
3cm
167
05-10
Standard
BROTHERS
New Venetian
Gold
3cm
02
Premium
BROTHERS
New Venetian
Gold
3cm
10
01
Premium
BROTHERS
New Venetian
Gold
3cm
10
02
Premium
BROTHERS
New Venetian
Gold
3cm
128
01
Standard
BROTHERS
New Venetian
Gold
3cm
128
02
Standard
BROTHERS
New Venetian
Gold
3cm
244
01
Standard
BROTHERS
New Venetian
Gold
3cm
244
02
Standard
BROTHERS
New Venetian
Gold
3cm
244
06
Standard
BROTHERS
Persalitto
3cm
22496
Premium
BROTHERS
Persalitto
3cm
22511
Premium
BROTHERS
Persalitto
3cm
22512
Premium
BROTHERS
Phantom Green
3cm
22340
Premium
BROTHERS
Pompei
3cm
23354
Standard
BROTHERS
Pompei
3cm
23355
Standard
BROTHERS
Pompei
3cm
23356
Standard
BROTHERS
Santa Cecilia
3cm
1041
Standard
BROTHERS
Santa Cecilia
3cm
2423
3-8
Standard
BROTHERS
Santa Cecilia
3cm
2470
01
Standard
BROTHERS
Santa Cecilia
3cm
2525
01
Standard
BROTHERS
Santa Cecilia
Gold
3cm
1156
Standard
BROTHERS
Santa Cecilia
Gold
3cm
2423
Standard
BROTHERS
Sedna - Magma
3cm
1005
1-6
Premium
BROTHERS
Sedna - Magma
3cm
1005
7-11
Premium
BROTHERS
Sedna - Magma
3cm
1005
17-21
Premium
BROTHERS
Sedna - Magma
3cm
1005
12-16
Premium
BROTHERS
Sedna - Magma
3cm
1027
7-12
Premium
BROTHERS
Sedna - Magma
3cm
1027
13-18
Premium
BROTHERS
Sedna - Magma
3cm
1027
19-24
Premium
BROTHERS
Sedna - Magma
3cm
1027
1-6
Premium
BROTHERS
Sedna - Magma
3cm
494
1-6
Premium
BROTHERS
Sedna - Magma
3cm
494
7-12
Premium
BROTHERS
Sedna - Magma
3cm
494
13-17
Premium
BROTHERS
Sedna - Magma
3cm
608
13-17
Premium
BROTHERS
Sedna - Magma
3cm
608
1-6
Premium
BROTHERS
Sedna - Magma
3cm
608
7-12
Premium
BROTHERS
Sedna - Magma
3cm
704
13-18
Premium
BROTHERS
Sedna - Magma
3cm
704
19-24
Premium
BROTHERS
Sedna - Magma
3cm
704
25-30
Premium
BROTHERS
Soap Stone Fantasy
3cm
49
01
Premium
BROTHERS
Soap Stone Fantasy
3cm
49
02
Premium
BROTHERS
Soap Stone Green
3cm
26
01
06
Premium
BROTHERS
Soap Stone Green
3cm
56
Premium
BROTHERS
Sucuri Brown
3cm
187
Premium
BROTHERS
Taupe
3cm
527
1-7
Premium
BROTHERS
Taupe
3cm
527
50-56
Premium
BROTHERS
Taupe
3cm
531
28
Premium
BROTHERS
Taupe
3cm
531
22
Premium
BROTHERS
Terra Cota
3cm
1477
Premium
BROTHERS
Tourmaline
3cm
21287
Premium
BROTHERS
Tourmaline
3cm
21291
Premium
BROTHERS
Typhoon Bordeaux
3cm
01
10-16
Premium
BROTHERS
Typhoon Bordeaux
3cm
01
31-37
Premium
BROTHERS
Typhoon Bordeaux
3cm
01
17-23
Premium
BROTHERS
Typhoon Bordeaux
3cm
01
38-44
Premium
BROTHERS
Typhoon Bordeaux
3cm
01
1-9
Premium
BROTHERS
Typhoon Bordeaux
3cm
01
24-30
Premium
BROTHERS
Typhoon Bordeaux
3cm
4416
02
Standard
BROTHERS
Typhoon Bordeaux
3cm
4416
13
Standard
BROTHERS
Typhoon Bordeaux
3cm
4416
01
Standard
BROTHERS
Typhoon Bordeaux
3cm
4614
02
Standard
BROTHERS
Typhoon Bordeaux
3cm
4614
06
Standard
BROTHERS
Typhoon Gold
3cm
21068
Commercial
BROTHERS
Typhoon Gold
3cm
21069
Standard
BROTHERS
Typhoon Gold
3cm
21070
Standard
BROTHERS
Typhoon Gold
3cm
21071
Standard
BROTHERS
Typhoon Gold
3cm
21072
Standard
BROTHERS
Typhoon Gold
3cm
21073
Standard
BROTHERS
Typhoon Gold
3cm
21074
Standard
BROTHERS
Typhoon Gold
3cm
21075
Standard
BROTHERS
Vesuvio
3cm
21107
Premium
BROTHERS
Vesuvio
3cm
21144
Premium
BROTHERS
Vesuvio
3cm
21145
Premium
BROTHERS
Vesuvio
3cm
21164
Premium
BROTHERS
Vesuvio
3cm
21187
Premium
BROTHERS
Vesuvio
3cm
21190
Premium
BROTHERS
Vesuvio
3cm
21200
Premium
BROTHERS
Vesuvio
3cm
21201
Premium
BROTHERS
Vesuvio
3cm
21202
Premium
BROTHERS
Vesuvio
3cm
21203
Premium
BROTHERS
Vesuvio
3cm
21295
Premium
BROTHERS
Vesuvio
3cm
21296
Premium
BROTHERS
Vesuvio
3cm
21297
Premium
BROTHERS
Vesuvio
3cm
21298
Premium
BROTHERS
Yellow River
3cm
4645
32
Standard

We provide homeowners, contractors and architects a large choice of custom fabricated stone slabs for residential or commercial use. Our staff of experienced, professional and knowledgeable stone experts help you select products, estimate costs, work with you on design ideas and follow through with personalized project management. Granite is a natural product and contains concentrations of crystals, pits, veins, fissures (small hairline cracks), and filler that are likely to be present in solutions of the slab(s) used to produce your counter tops. Conveniently Located at 5143 Front St., Stedman, NC 28391
Fayetteville | NC | Fort Bragg | Stedman | Willmington | Clinton | Elizabethtown | North Carolina |
Call Today! (910) 323-3104




Granite Locations | Mobile Website | Partners | Services | Granite Countertop News | Edges | FAQ | Client Projects | Granite links | Feedback | Fabricator | Blog | Affiliate Program
© 2018 Granite Countertops Makeover property of Professional Remarketing Group, LLC All Rights Reserved